Node.js Hosting
Try Free for 60 Days - No Card Details Required
Deploy and run your NodeJS App Quickly & Effortlessly. We'll deploy your application to your own private server completely free of charge. Simple, fast, reliable and flexible - it's the ideal solution for any Node App.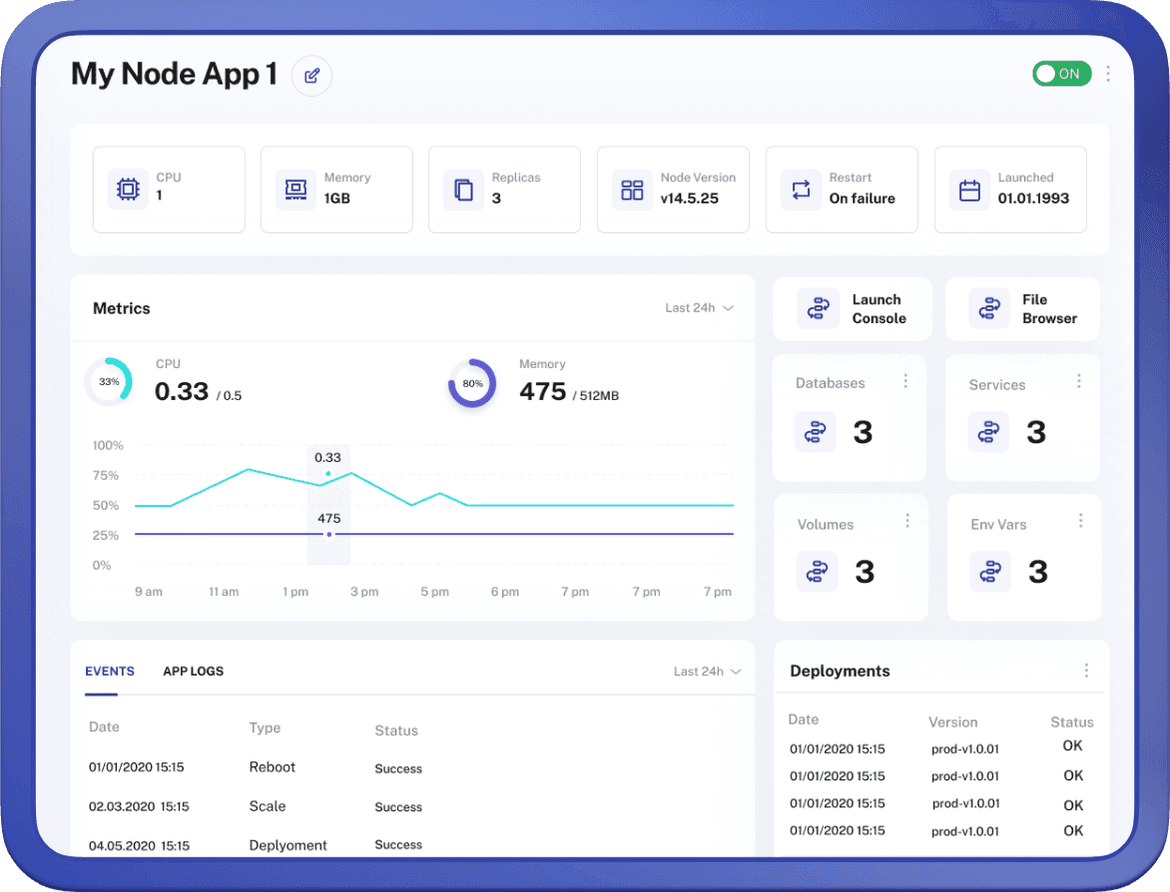 Beginner or expert, we've got you covered
All packages include ...
Easy Deployment
From Git or zip file, we'll deploy your app and get it online for you free of charge.
Any Node Version
We'll support any node version you require for your app, from the oldest to the newest.
Any Database
Choose from MySQL, Mongo, Redis, Postgres, or any other persistent storage.
NPM, Yarn & More
You can use NPM, Yarn, or any other package manager you prefer.
SSH & FTP
SSH and SFTP access for command line manangement and secure file transfer.
SSL Included
LetsEncrypt integration as standard provides free SSL Certificates for your domains.
24/7/265 Support
We're at your command (line)! Highly technical support staff are on hand 24/7.
Daily Backups
We'll backup your app daily and retain 7 daily and 4 weekly restoration points.
Node.js Hosting Packages
Monthly
Annually (2 Months Free)
24/7/365
Support
30 Day Money
Back Guarantee
99.9% Uptime
Guarantee
Free Setup &
No Hidden Fees
Same Price
Every Year
No Contracts -
Cancel Any Time
Need Email?
Add on email, with POP/IMAP to keep multiple devices in sync, webmail and powerful spam filtering from £2.50 / month.
Ultimate Node Hosting Platform
Your Private Server Managed By Us
You'll have your own VPS to run your Node Application, so everything remains private, secure and performant. All packages include server manangement as standard. This means we'll setup your server, deploy your application and get it running.
Once you're online, we'll give you instructions to update your application if needed, and we'll continually monitor your server to ensure it's online and running 24/7. We proactively detect issues and fix automatically, so you can sleep easy.
Choice of Databases
If you need database or persistent storage, we can deploy your server with almost any database engine, such as MySQL, MongoDB, Redis or PostgreSQL.
If you need something bespoke or specific, give us a shout and we can advise.
DDOS Protected
Our entire network is DDOS protected with multiple TB of protection. We monitor our network at the edge, so when a threat is detected, traffic is routed through scrubbers which clean and remove the threat, allowing legitimate traffic to continue as normal.
This happens all within a few seconds and is completely transparent to anyone - your visitors won't know any difference!
Enterprise Infrastructure
We use state-of-the-art hardware and continually refresh our systems, so you'll always be hosted on the fatest CPUs and most reliable SSDs.
We only use enterprise grade SSDs with the highest performance and longest lifetime to ensure your data is protected. We also backup your data daily and store it offsite for extra security and protection against user error.
Our infrastructure is redundant at every level, including the network which is multi-homed to the internet backbone and our power supplies.
Our cloud allows us to quickly migrate you to new hardware in the event of a failure.
Fully Scalable
You can grow your service as you need, from small servers right up to large, multiserver installations serving thousands of requests per second.
We pro-rata your upgrade cost, so you'll only pay the difference in package price for the time remaining to your next renewal.
Our engineers are experienced in the real-world high availability, high traffic systems. If you're looking for a large scale managed solution please get in touch, we'll be happy to discuss.
Green Node Hosting
100% Renewable Energy
We're a certified partner of the thegreenwebfoundation.org
100% Renewables
Last 30 Days
Planting Trees
We've partnered with Ecologi to plant trees, fund projects to remove CO2 and become a climate positive workforce.
Renewable Energy
All of our data centre infrastructure is powered by 100% renewable energy.  We've been certified by The Green Web Foundation to ensure our power comes from legitimate renewable sources.
Efficient Infrastructure
We run our infrastructure at the highest possible efficiency, resulting in up to half as much power consumed as a traditional host.
Green Perks
We want to be green through and through, so all staff are offered green perks such as subsidised electric vehicles.
Frequently Asked Questions
Why should I use Node.js for my application?
The main advantage of writing an application with Node.js is that it allows you to use both the same language for front end and back end development. Historically, with web apps, your front end would be written in a different language to your back end. This obviously has numerous advantages.
Which database should I use for Node.js?
There are numerous database options out there when it comes to Node.js. Most developers prefer MongoDB as it's extremely JS friendly given it uses JSON for storage. But essentially you can use whatever database you feel comfortable with from MySQL to Redis.
Won't Node.js run on a regular web hosting account?
Typically yes, you can run Node.js on any web hosting account providing it's installed and you have command line access to manage your deployments. However, optimised packages are always better and hostng on a purpose built, optimised Node.js platform can save you a lot of time in the long run.
What sort of apps can I build using Node.js?
Node.js is one of the most versatile runtimes out there and in short, if you can dream it up you can probably use Node.js to build it. Whatever web based app you can think of from games to chatrooms, Node.js has the functions and capabilities to handle it.
I want to use Angular.js, is that the same thing?
While they are not the same thing you can host your Angular app on our Node.js platform. Angular.js is a framework. Node.js is a runtime environment. You'd use a framework such as Angular to build the front end of your application (should you choose to) and couple that with a back end often written in something else entirely. Node.js essentially combines the two.
See what our customers say
Don't just take our word for it, read it from them
Long time Node User
"I have been creating Node.js for a few years now and have always had issues with the major hosts. Typically configuration issues or simply lack of knowledge/support surrounding Node.js. That was until I found HostPresto. Not only are the servers extremely well configured out of the box, the support team are also highly knowledgeable when it comes to Node.js which is a rarity in this industry."
Simply nobody better!
"I have been running various Node.js deployments on my VPS I have here with HostPresto and being a long term customer I can tell you that when it comes to Node.js web hosting there is nobody better than HP. Not only do they have the hardware and infrastructure to support development but the support team are also highly adept when it comes to dealing with even complex issues."
Excellent support!
"As a developer I am thankful I was able to find HostPresto. It's rare to have an independent web host with a support team who are personally well versed in all aspects of web design and developmnet. It makes explaining things and resolving web hosting issues so much easier."
Why host with HostPresto
All of our web hosting packages offer the following
30 Day Money Back Guarantee
We know you'll love our services, but for peace of mind we'll give you a 30 day money back guarantee. Request cancellation in the first 30 days and we'll refund you no questions asked.
UK Company, UK Staff, UK Datacentre
We're a UK registered company based on the south coast and all of our staff remote work around the UK. Our datacentre is located in Kent. We pay our taxes in the UK and we're not affiliated with any multinational companies.
Leading Independent Web Host
We're one of the leading independent UK hosts with hundreds of genuine customer reviews on TrustPilot. We aren't owned by any big multi nationals, we're small, passionate and caring.
We Own Everything, We Never Resell
We own and operate all of our infrastructure - we never resell services from other companies. This allows us complete control over the service we provide. It allows us to give you a predictable, reliable, low cost service.
24/7/365 UK Based Support
Expert technical support is on hand 24 hours a day to help. All of our staff are technically trained to the best standards so you'll get someone who knows what they're doing - first time, every time.
Free Migrations
All of our hosting and managed server solutions include free migrations for all of your websites from any other host. We know moving hosts can be hard work, so let our expert engineers do this for you.
No Setup Fees or Contracts
All of our services can be paid monthly or yearly, and there are no hidden fees, setup fees or contracts to tie you in. Our pricing is transparent, consistent and fair.
99.9% Uptime Guarantee
We offer a 99.9% uptime guarantee on all hosting and managed services and by proactively monitoring our redundant infrastructure, we regularly hit 100% uptime on a monthly basis.
Can't decide on a package? We're ready to help!
Our team are all highly experienced in Node apps and hosting.
NodeJS Tutorials
Guides, tutorials and tips on all things Node