UK E-Mail Hosting
Email you can rely on! Our cloud email service is secure and robust, it's compatible with all computers, tablets and smart phones so you can keep your email in sync on all devices. Powerful anti spam keeps your inbox clear, and simple webmail gives you access anywhere. Did we also mention it's cheap?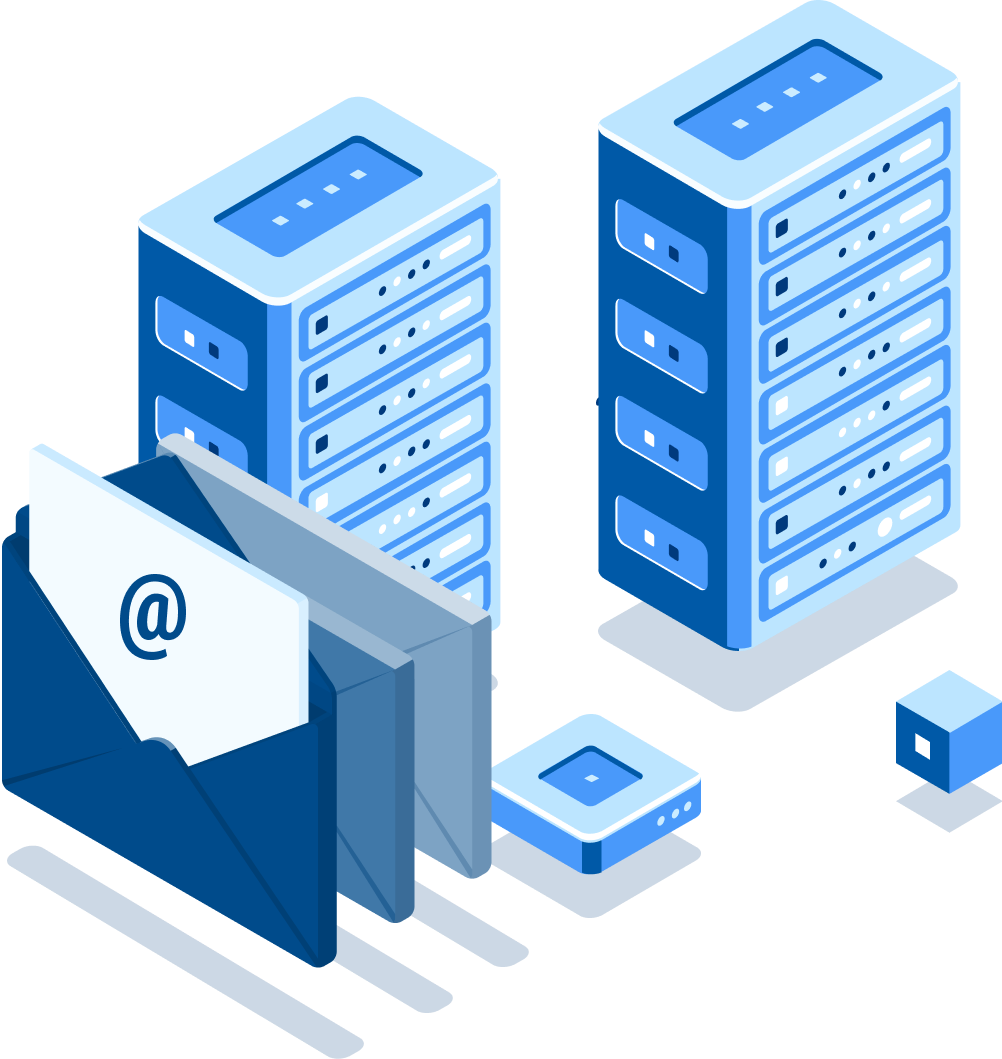 100% Uptime
In the last 30 days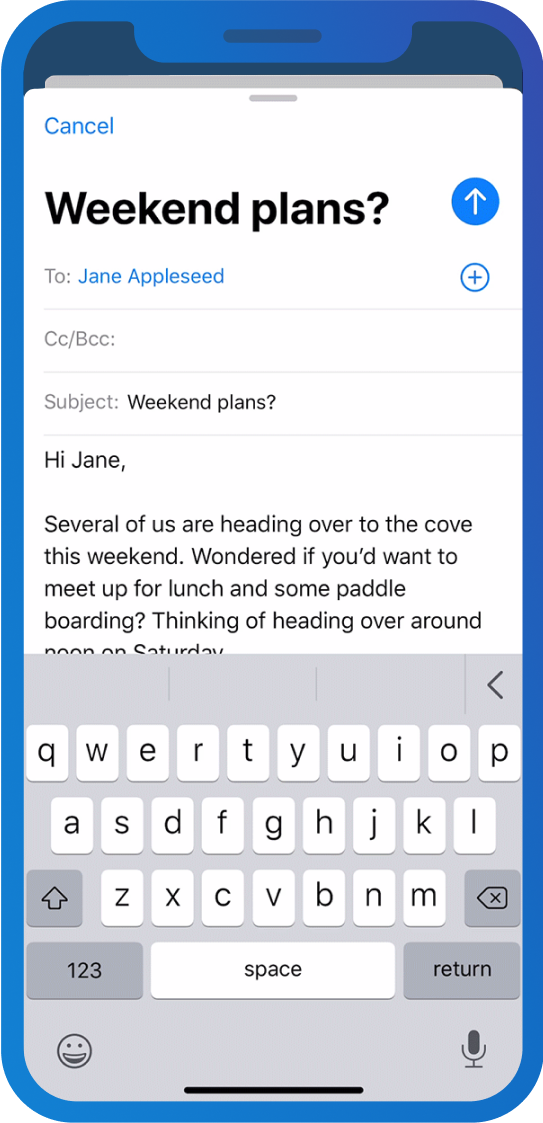 Fully Loaded Email
Reliable email with powerful anti spam protection.
Email that just works! Connect your computers and devices to hosting account quickly and easily, and you can send and receive email under your own domains. All email will stay in sync on all devices automatically.
All of our web hosting packages include feature rich email, you can setup multiple email accounts under any of the domains hosted in your account, as well as add aliases and forwarders.
Simple Webmail
Easy to use Webmail gives you universal access anywhere in the world, ideal if you've run out of battery on your mobile and left your laptop at home, or perhaps you don't want email on any of your devices at all. Webmail allows you to securely log in from anywhere in seconds.
Desktop Email Client Compatible
Our email hosting is compatible with every desktop email client, including Microsoft Outlook, Apple Mail and Moziller Thunderbird. Setup is quick and easy.
Powerful Spam Filtering
We hate spam as much as the next hosting firm and we know our hosting customers hate it too. That is why all our servers come with the ever popular MailScanner spam protection software. If you're prone to a lot of spam there really is nothing better when it comes to spam protection.
Smartphone & Tablet Sync
Quickly and easily connect your mobile devices and tablets to your email hosting. The server will keep all devices, desktop computers and webmail in sync for you. Supports every platform including Apple iOS and Android.
Unlimited Forwarders
A forwarder allows you to automartialay forward on email to any other email address, even if it's with another provider. Ideal if you want to forward to a personal or second inbox.
Unlimited Aliases
Create unlimited you@your-domain.com aliases onto your email accounts. This allows you to receive email to many different aliases to the same inbox.
Email Hosting Plans

Try for £1.00
Monthly
Annually (2 Months Free)
24/7/365
Support
30 Day Money
Back Guarantee
99.9% Uptime
Guarantee
Free Setup &
No Hidden Fees
Same Price
Every Year
No Contracts -
Cancel Any Time
Can't decide on a package? We're ready to help!
Click on the button below to chat to one of our expert advisors!
Get In Touch
Moving from an existing provider?
All email packages include free email migration. Our engineers will copy your email over from your existing provider, so your inbox stays identical. We'll schedule your migration and manage it with zero downtime – you won't lose a single email during the process.
Use any domain with our email hosting
If you don't have a domain name, you can purchase one during checkout. If you do have a domain name already with another provider, you can use this domain with us – the domain or existing website does not need to be registered or managed by us to use our email hosting. If you need help, our support can help you setup the domain to route email to us, no matter where it is.
High Deliverability
We closley monitor the outgoing email from our systems to ensure only high quality transactional email is sent. This keeps the reputation of our IP addresses high, and helps us maintain a great relationship with other email providers. The result is that your email cuts through the spam every time and makes it to your recipents inbox.
Beautiful Webmail
You can syncronise any computer, smartphone or tablet to our email systems as it uses industry standard protocals. However, you can also use the built in Webmail in your browser.
The simple, intutitive design makes managing your inbox a breeze, and composing emails a pleasure.
Business Email Ready
Our email systems are enterprise grade, with redundancy, resiliency and security built in. It's perfect not only for personal users, but business users also.
From a small company right through to hundreds of users, our email hosting makes setup easy and deliveries on high expectations every time.
Enterprise Email Security
Our email infrastructure is extreemly secure, incuding end to end encryption, brute force attack detection and prevention, DDOS mitigation, and multi factor auth.
It's fuly PCI Compliant, and is penetration tested regulary to ensure it stays secure.
Dependable Support
Our expert UK support team are on hand 24/7/365 for any issues you may have, from helping to configure your email by remote support, to tracing email delivery and troubleshooting issues.
We'll resolve your issue fully and properly first time, every time, not pass you around from person to person. It's support you can depend on.
Seen Enough? Choose a package and get up and running in minutes.
Green Node Hosting
100% Renewable Energy
We're a certified partner of the thegreenwebfoundation.org
100% Renewables
Last 30 Days
Planting Trees
We've partnered with Ecologi to plant trees, fund projects to remove CO2 and become a climate positive workforce.
Renewable Energy
All of our data centre infrastructure is powered by 100% renewable energy.  We've been certified by The Green Web Foundation to ensure our power comes from legitimate renewable sources.
Efficient Infrastructure
We run our infrastructure at the highest possible efficiency, resulting in up to half as much power consumed as a traditional host.
Green Perks
We want to be green through and through, so all staff are offered green perks such as subsidised electric vehicles.
Frequently Asked Questions
Do any of your e-mail hosting services come with a webmail option?
Yes, all of our hosting accounts come with cPanel which includes a range of web mail options such as Roundcube, Horde and Squirrelmail.
How many e-mail accounts can I create with HostPresto?
All of our e-mail hosting accounts come with the ability to add an unlimited amount of e-mail accounts. Keep in mind however that some plans have disk space restrictions so if you're keeping mail on our servers you'll need to actively monitor your usage.
I want to migrate my corporate e-mail to HostPresto from a different host - is that possible?
Yes, all of our hosting accounts, e-mail hosting included come with free migration. If this is something you'd like to take advantage of then just let us know once your new account is up and running.
Do you offer spam filtering?
Yes, all of our hosting plans come with the MailScanner spam protection software which can be fully configured based on your requirements.
Can I setup forwarders or am I limited to POP3 or IMAP?
Yes you can setup e-mail forwarders via cPanel. You can forward to multiple addresses or setup catch all accounts to forward all e-mail sent to a given domain.
See what our customers say
Don't just take our word for it, read it from them
Email hosting wins!
"I decided to setup an e-mail hosting account as opposed to a traditional web hosting account as we don't have a corporate site but we do have a lot of corporate e-mail addresses for our sales staff. HostPresto understood our needs and requirements perfectly and put together a custom solution to suit our needs. To date, no issues, highly recommended."
Best in the UK!
"The e-mail hosting service provided by HostPresto in my opinion is one of the best in the UK. I've tried several of the top hosts over the years and whilst the service has been good I've just not had the personal touch like I have with HostPresto. Whatever the issue, their support team has been on hand to assist, 24/7. Great service."
Experts in their field!
"Whether you're looking for traditional web hosting or just looking to setup hosting for a corporate e-mail address, HostPresto are the guys to speak to. We've got over 100 e-mail accounts hosted on their starter e-mail hosting plan and the service so far has been fantastic. When it comes to both personal and private solutions, you really can't go wrong."
Why host with HostPresto!
All of our web hosting packages offer the following
30 Day Money Back Guarantee
We know you'll love our services, but for peace of mind we'll give you a 30 day money back guarantee. Request cancellation in the first 30 days and we'll refund you no questions asked.
UK Company, UK Staff, UK Datacentre
We're a UK registered company based on the south coast and all of our staff remote work around the UK. Our datacentre is located in Kent. We pay our taxes in the UK and we're not affiliated with any multinational companies.
Leading Independent Web Host
We're one of the leading independent UK hosts with hundreds of genuine customer reviews on TrustPilot. We aren't owned by any big multi nationals, we're small, passionate and caring.
We Own Everything, We Never Resell
We own and operate all of our infrastructure - we never resell services from other companies. This allows us complete control over the service we provide. It allows us to give you a predictable, reliable, low cost service.
24/7/365 UK Based Support
Expert technical support is on hand 24 hours a day to help. All of our staff are technically trained to the best standards so you'll get someone who knows what they're doing - first time, every time.
Free Migrations
All of our hosting and managed server solutions include free migrations for all of your websites from any other host. We know moving hosts can be hard work, so let our expert engineers do this for you.
No Setup Fees or Contracts
All of our services can be paid monthly or yearly, and there are no hidden fees, setup fees or contracts to tie you in. Our pricing is transparent, consistent and fair.
99.9% Uptime Guarantee
We offer a 99.9% uptime guarantee on all hosting and managed services and by proactively monitoring our redundant infrastructure, we regularly hit 100% uptime on a monthly basis.
Can't decide on a package? We're ready to help!
Click on the button below to chat to one of our expert advisors!
Email Hosting Tutorials
Guides, tips and tricks from our community members